GBP-Z027 Gas Boiler Circulation Pumps

GENERAL INFORMATION
PERFORMANCE DATA
Installations and Use
The pumps are assembled in the hydraulic module of the gas wall hung boiler for heating and cooling system. An integrated air venting system of the pump can automatically deposits the air out of the water.

The pump is of the wet -rotor type. The bearings are lubricated by the pumped liquid.The pump is combined by stator, rotor, shield cover, air vent valve and so on.

The pump is suitable for the pumping of clean, non-corrosive and non-explosive liquids without any solid particles or fibers. The pump must not be used for the transfer of inflammable liquids such diesel oil, petrol or similar liquids.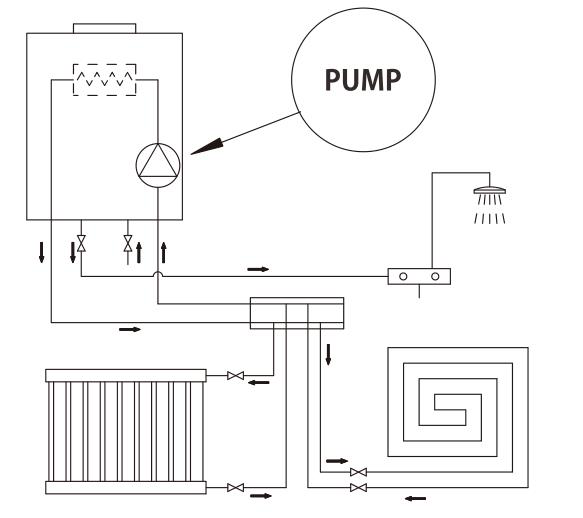 Operating Conditions
Liquid temperature up to +20 ~ +85ºC
Ambient temperature up to +40ºC
Sound pressure ≤42 Db(A)
Ambient humidity:<95%
Max. System pressure 3bar
To avoid NHP damage to the bearing of the pump, Minimum inlet pressure must be kept as below
Liquid temperature

85°C

90°C

95°C

Inlet pressure

0.05bar

0.08bar

0.6bar

0.5m head

2.8m head

6m head
Performance Range
Flow rate up to 2.5m3/h
Head up to 7m
Electric Motor
Two- pole induction motor, 50HZ
Standard voltage 1x220V-240V
Motor with built-in thermal protector
Dry running mustn't be more than 10S
Insulation class H
Protection IP42
Model

V/Hz

Pos

Q(m3/h)

H(m)

P(W)

I(A)

GBP15-40S/Z027

230/50

III

2

4

65

0.33

II

1.5

3.5

50

0.25

I

1

2.5

32

0.18

GBP15-50S/Z027

230/50

III

2.2

5

85

0.42

II

2

4

60

0.33

I

1

2.5

40

0.20

GBP15-60S/Z027

230/50

III

2.5

5.7

100

0.45

II

2

4.5

75

0.33

I

1.2

3

55

0.20

GBP15-70S/Z027

230/50

III

2.5

6.5

130

0.60

II

2

5

110

0.50

I

1.2

3.5

90

0.40
Feedback form contact with us